This post may contain affiliate links. Please read our
disclosure for more information.
"Already breathless" and we had just landed in Cusco, Peru.  We had arrived two weeks early to acclimatise for our four day  Machu Picchu trek.  At 3,400m above sea level, you could expect to feel lightheaded,  with sudden onset of headaches, nausea and lethargy expected but for Duncan to get it 5 minutes after landing was a bit of a worry.
Cusco was a shimmering sight on this clear crisp sunny day with its terracotta rooftops nestled in the verdant green valley with its many parks and plazas scattered throughout.
Our Cusco Top Travel Tip 
Stay for at least a week and acclimatise especially if you are considering trekking Machu Picchu. If you have time spend a few nights in Ollantaytambo and climb the Inca Ruins there as a practice run for Machu Picchu.
Drink lots of Coco tea to help alleviate altitude sickness.
Walking in Cusco
Head towards Plaza Armas, the 'heart of Cusco',  is where it all happens. At certain times during the year, the Plaza comes alive with local Andean tribes celebrating different Inca festivals.   This is a great photo opportunity where you can snap away without being asked for payment.  The going rate of photos with the locals and the llamas can vary depending on how many of them are there, the time of the day, the location and/or what they feel like charging you. They are seasoned bargainers and will not budge but enjoy the tussle!
This is one Plaza where we could sit all day and people watch.
When you tire of people watching, wander around the steep cobblestoned streets of the San Blas area, full of hotels and restaurants and in Plaza San Blas purchase the local handicrafts and very cheap Peruvian jumpers.
Plaza San Blas is only 3 blocks away from Plaza Armas.
What to See in Cusco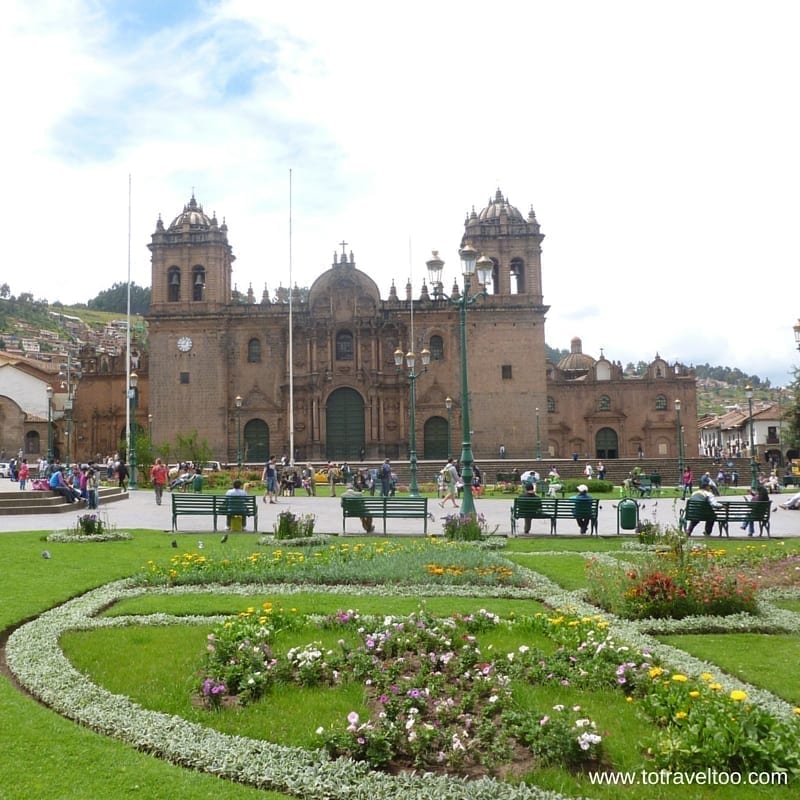 Cusco Cathedral – Plaza Armas
In busy Plaza Armas, you will not miss Cusco Cathedral a designated UNESCO World Heritage Site since 1983.  It is located on the previous temple site "Kiswarkancha" which was built by the Incas.   Unfortunately, the temple was demolished to make way for the Spanish place of worship when the Spanish Conquistadores arrived in 1559.  It took nearly 100 years to complete and today houses many archaeological artifacts and relics.
Statue de Pachacuti – Plaza Armas
Pachacuti means 'he who shakes the earth'.  Pachacuti was the ninth Sapa Inca (1438-1471) and ruled the Kingdom of Cusco.  During his reign, he turned the sleepy hamlet of Cusco into a thriving empire which included the lands from Ecuador in the North, Bolivia and Chile and Argentina in the South.
San Pedro Market – Calles Tupac Amaru and Cascaparo
Just a short 8 minutes walk from Plaza Armas is the bustling San Pedro Market.  Open daily from 9am to 6pm it is the cheapest place to eat in Cusco.  Here you will find many food stalls side by side selling empanadas, lomo saltado (stir fried beef with tomatoes) and the local delicacy cuy or guinea pig.  Watch where the locals buy their juices from as there are over 20 stalls to choose from. Other stall holders offer meat, chicken, fruit, vegetables, spices and of course local souvenirs.  Try your bargaining skills while you are wandering around.
Saksaywaman – North of Cusco
You can walk from the San Blas area to Saksaywaman, there are markers showing the way. Saksaywaman is believed to be one of the oldest ruins on the planet.  Originally built by the Killke's over 1,000 years ago  and added to by the Incas later in the 13th century.  The Spaniards demolished parts of Saksaywaman as they needed the stones and boulders to build their new houses and churches in Cusco.  Today engineers marvel at the construction and have trouble replicating the building process, as mortar was not used in the construction and some boulders that are slotted together you cannot even place a pin between them.  In 1983 it was designated a UNESCO World Heritage Site.
On the 24th June each year the Inti Raymi festival celebrating the Inca Festival of the Sun and the New Year is held at Saksaywaman.
Where to Eat in Cusco
There are many restaurants, cafes and bars in Cusco to choose from, here we have included our 4 favourites.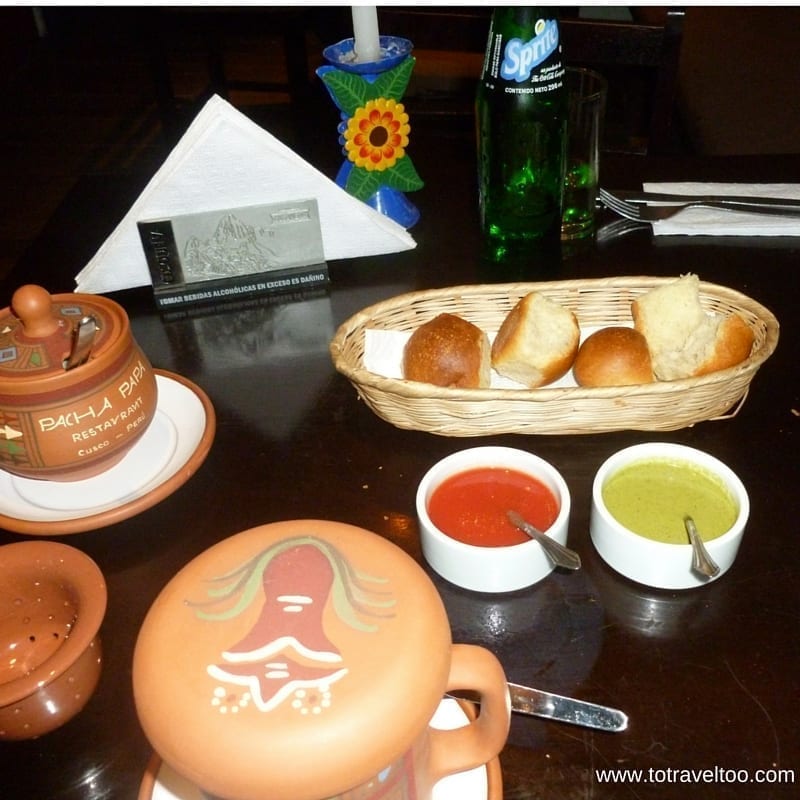 Pacha Papa Restaurant – Carmen Bajo, San Blas
If you want authentic Andean food in a rustic courtyard setting sitting under cherry trees this is the place to come.
Jack's Cafe – Choquechaka 509
Established in 2003 this cafe has the best coffee in Cusco.  Expect to queue during the busy lunch and dinner hour but it is well worth the wait.
Natur
landia – Carmen Alton 146 San Blas
For great healthy shakes, sandwiches and vegetarian meals head to Naturalandia.  They also have good wifi.
Our favourite family run Restaurant is Sumac in San Blas – Calle Choquechaca 424
There are two Sumac restaurants located in Calle Choquechaca. They both are only small seating 4 or 5 tables with an offer of a free glass of wine or pisco sour with your meal.  You can choose from local Peruvian dishes or tasty pizza.
Where to Sleep in Cusco
We enjoyed our stay at Hotel Tikawasi, read our review here.
It has recently been renamed and is now known as  Tikawasi Casa Boutique Hotel. It is located in the San Blas area and has some great views over the valley.
We loved Cusco and can say that it is one of our favourite cities, hope it is yours too! Have you been?
Why not take our article with you as you wander around Cusco? Click this link.